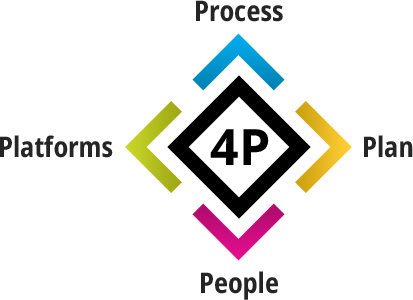 4 P's of PubTech: A winning proposition!
The Plan: Create a roadmap around the customer journey, power your channel marketing, deliver richer insight and accelerates your marketing strategy and customer experience.
The People: Selection of skills, people and team structure to deliver your tech strategy with the amalgamation of emerging and disruptive tech that gives meaning to your roadmap.
The Platforms: selection of right technology-powered marketing tools to build and integrate a complete Tech Stack. This powers your advertising, sales, overall content experience, data & management.
The Process: With ample experience over time, implementing the right tech solutions providing optimization with a quick turnaround time is the way PubTech promises a seamless process experience.
How to achieve this? Remote Working is the key.
The fast-paced and complex nature of today's business environment often means that all the goals of the organization may not be achieved with an in-house team. Achieving a fully efficient resource and production facility at an affordable price is a difficult task. The only sensible way to operate at an affordable price is by outsourcing, offshoring, or hiring remote employees.